Dr. Seuss's Birthday is tomorrow!
Tomorrow is Dr. Seuss's birthday and we wanted to commemorate with a Fish (grilled cheese) sandwich! Fish is my favorite character from the Cat in the Hat. Honestly, there were a few more things I wanted to do but we ran out of time. I spent too much time trying to get the fish's eye right, I think. It's ok though because I call it a subtle hint of Seuss 😉
---
Sandwich
Woo hoo! We're off the PB&J and today it was grilled cheese! The fish I made with a template from a print out used on sliced cheese. The eye was a flattened out piece of Marshmallow Bit(s). The fish was outlined and drawn in edible markers, as was the goldfish bowl.
Sides
Fuji apples and (not pictured) a mandarin.
---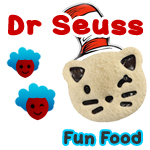 Today I used: